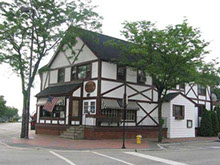 Welcome to Mrs. P And Me, where the past greets the present in an atmosphere of nostalgia and the aroma of good food. The tradition began in 1902, when Henry Behrens opened a bar and restaurant on this location and where early twentieth century patrons enjoyed the local hospitality. The saloon thrived until the early 1920's when Prohibition changed the bill of fare to candy, cigars, and ice cream. The repeal of Prohibition brought major changes as the Kruse family took over and remodeled the restaurant. Kruse's Tavern thrived serving as a gathering place for local sports enthusiasts, dairy farmers, and North Western Railway travelers from the 1930's through the 1960's.
Dennis Miller took over in 1977 and renamed the restaurant to Mrs. P And Me; the "P" standing for his hometown of Pittsburgh. Much remains of the old days, including the original bar and an array of Mount Prospect memorabilia. With their acquisition in 2004, three Mount Prospect residents fulfilled their dream and acquired Mrs. P And Me, pledging to carry on the century old traditions throughout the 21st century.
Thank you for selecting our restaurant for your dining pleasure. Try the ribs, they're great!